I work with individuals and groups to address issues such as:
• difficult relationships and intimacy struggles
• isolation
• physical, emotional, and sexual abuse
• depression and anxiety
• spiritual issues and questions about existence
• grief
• life transitions
Therapy is the establishment of a trusting relationship. It offers a place of honest and genuine care where you can speak of the matters that most deeply impact you and the events where you felt pain, anger, fear, or shame. In response to harm, we often choose ways of coping that hurt others and ourselves. The goal of therapy is to encourage change and growth for the sake of living with more freedom and loving others better.
Many difficulties in current relationships are rooted in patterns established in childhood. In counseling, we look at the ways you learned to relate as a child and how they interfere with experiencing freedom and intimacy today. As we work together, we look at integrity (facing truth that we have avoided), freedom (shedding the unnecessary constraints we put on ourselves), and responsibility (seeing ourselves as people who can choose and have an impact for good in our world).
You will reap the most benefit from therapy if you are willing to wrestle with pain and grief, embrace joy and play, do outside reading (see my list of resources), and take risks in relationships to learn to live more fully. Ultimately, counseling is successful to the extent that you recognize the only person you can change is yourself. My hope is that the work we do together enables you to live with more freedom, enjoy deeper relationships, embrace pain in a way that increases your capacity for true joy, and leave a beautiful mark on your world.
My Experience
I am a Licensed Mental Health Counselor (LMHC) in the state of Washington and earned my master's degree in counseling from The Seattle School of Theology and Psychology in 2004. For my internship, I worked with Dr. Dan Allender at his Recovery Weeks, where we focused on the issue of sexual abuse. I wrote the workbook that accompanies Dan's book, To Be Told, about the importance of telling the stories that have shaped you. At the annual Story Workshop, I teach participants how to write their stories with more honesty and compassion and I lead one of the the groups where participants give feedback to each other. I also have lead groups for the Lay Counseling Certificate program at the Allender Center.
Therapy Dog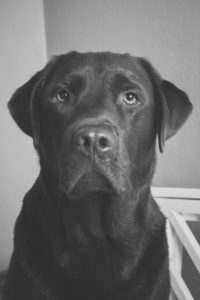 Most of the time a therapy dog works with me in my practice. Téo (TAY-oh), a chocolate Lab, offers unconditional love and acceptance to clients … and then chews on a bone or snoozes upside-down. (Giving of yourself so fully can be exhausting.) I hope eventually to get certified as a therapy dog team. He was born in May 2015, so any certification is a ways off, after a lot more classes and practicing at home. Téo's hobbies include tearing up cardboard, carrying my shoes around, eating carrots, and jaw sparring with his dog friends. His current bad habit is checking out all the trash cans in the office for something tasty. We are working to break that one.